Back to blogs
Jon Skeet Joins Multiple iO Meetups
Posted on September 2019 By Michelle Smith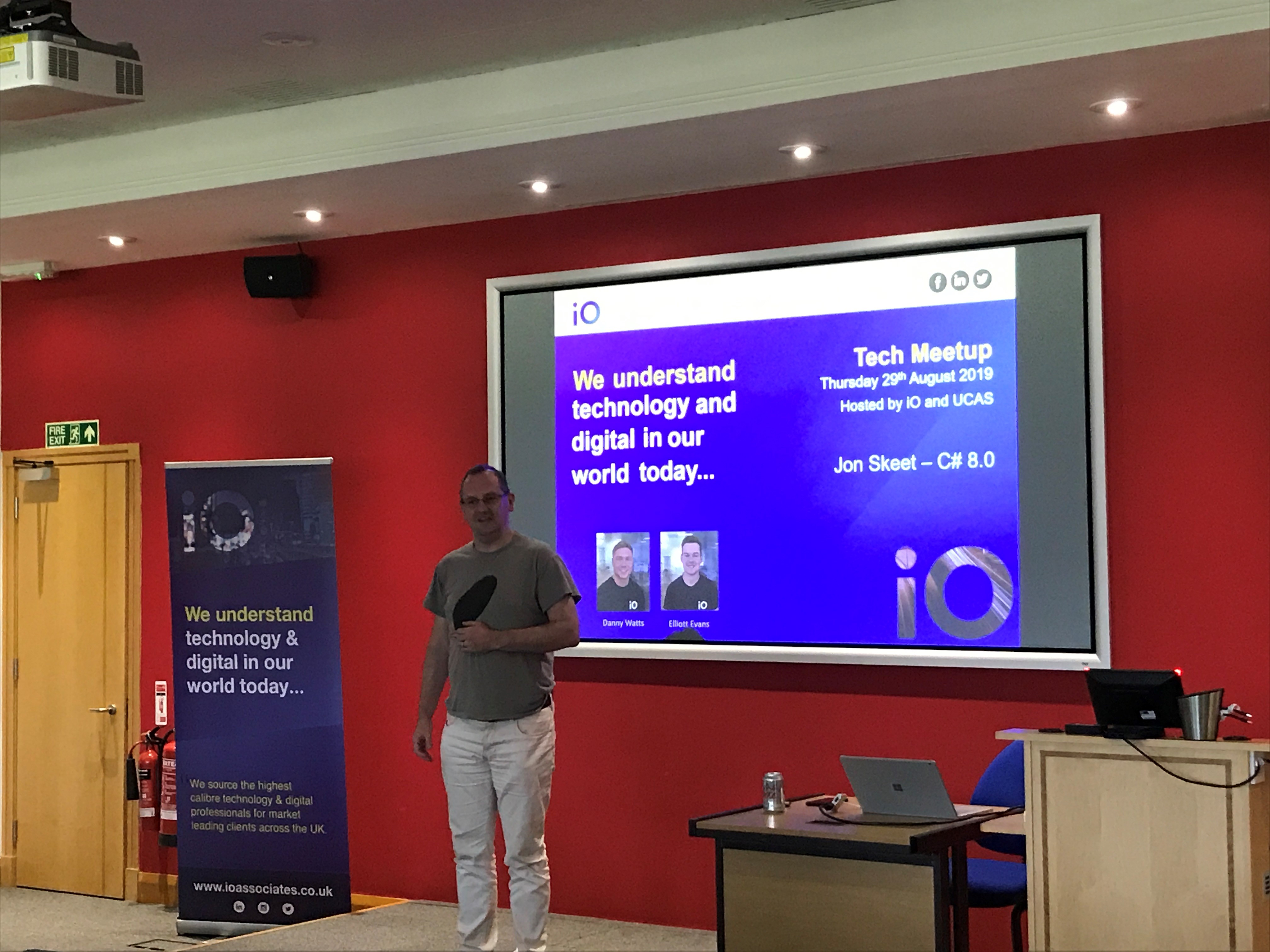 ​Last week we held another of our ever growing Tech meetups, this time kindly hosted at UCAS in Cheltenham. Our meetups provide a platform for the tech community to exchange ideas and keep up-to-date with the latest movements and shifts in software development.

For this event we were lucky enough to secure well renowned Google software engineer, author and Stack Overflow contributor Jon Skeet. Jon delivered an insightful and engaging discussion on the upcoming C# 8.0 and will further be hosting another meetup with us at Argus Media in London on the 11th September. Register here.

Jon commented;

"Though we don't have a released date for C# 8.0 yet, it's close enough that it's worth learning about. The most important, complex, and potentially disruptive feature in C# 8 is nullable reference types, but there's more than that. There's also pattern matching enhancements, switch expressions, index and range literals, greater async integration and more. These events provide a great opportunity to find out what the future holds and how to get ahead of the game…"

Danny Watts, Senior .Net Contract Associate at iO Associates said;

"The feedback we've had from this meetup already is incredible, so a massive thank you to Jon. I'm so proud to see our Cheltenham/ Gloucester group has grown so massively, from humble beginnings with 25 attendees in February we've grown to a meetup that attracts well over a 100 tech enthusiasts! These events offer us a fantastic opportunity to stay on top of the industry trends, catch up with our network and share our knowledge of the market."

We have several Tech Meetups throughout the South so, if you enjoy technology and would like to socialise with fellow technologists, please come along or join our group to find out more and keep up to date. You can find out more details here:
London
Cheltenham/ Gloucester
Reading
South West

You can check out our current software development roles we have live here.