Back to blogs
iO Defence Series - An Interview with Mivy James
Posted on October 2020 By Danny Watts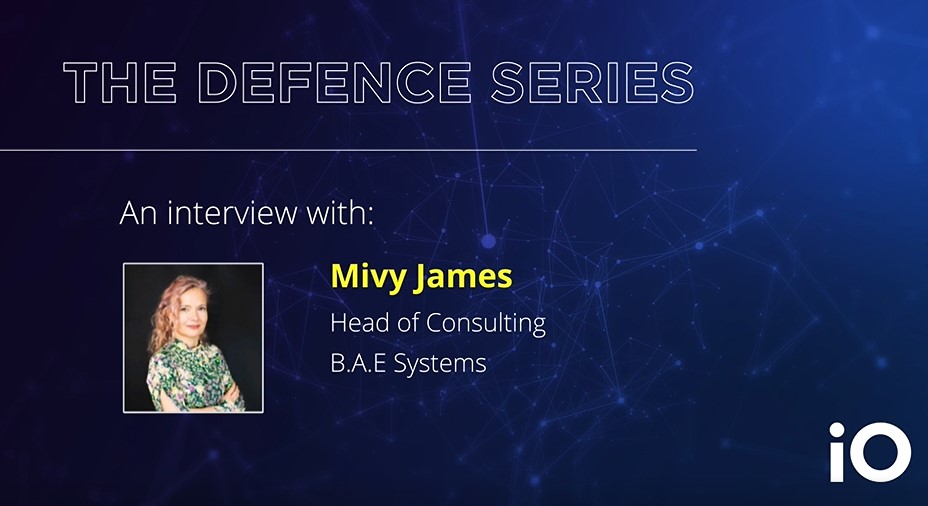 iO are delighted to announce the first interview of our brand-new group, 'The Defence Series'. The aim of this group is to bring together the defence community to discuss hot topics across diversity, innovation and growth.
We kick off our first interview with Head of Consulting for BAE Systems, Mivy James.
iO Business Manager Danny Watts conducted the interview which delved into Mivy's journey within defence, as well as dealing with individuals in defence and central government.
​
Some of the topics discussed included;
- Insight into being a woman in a male-dominated industry.
- Are there diversity issues within defence?
- Ho defence can spearhead autonomous leadership.
- How to implement a 'no blame' culture.
- Top tips on starting a transformation project.
​
You can watch the full interview here:​​
​
About Mivy
Mivy James has been an IT professional for over 20 years. Prior to joining BAE Systems Applied Intelligence in 2005 she worked for several international IT consultancies and corporations. Mivy started her career as an analyst / programmer after completing a degree in Computer Science and Maths and soon moved into technical leadership and system design. Mivy has worked for a range of clients across UK government on everything from cutting edge technology research to the strategic design of multi-billion pound programmes.
Mivy is enthusiastic about technology and particularly keen to encourage women to follow careers in the IT profession, she is the founder & chair of Applied Intelligence's gender balance network. Outside of work Mivy pursues a variety of hobbies including travel and outdoor sports.
​
​Sign up to 'The Defence Series'
As part of The Defense Series, we are looking to bring together individuals from all walks of life – whether previous service history, working within the MoD, working for a prime or someone that's just interested in finding out more.
We will be sharing a range of insights and running events on a regular basis with topics from; 'The Battlefield to the Scrum-board', 'Innovation in Defence', "Women in Defence' and 'The Future of SME's'.
Sign up to our LinkedIn Group to find out more and stay up to date with our latest events and insights: https://www.linkedin.com/groups/8988174/
Or get in touch with Danny d.watts@ioassociates.co.uk
​