Back to blogs
How FinTech is and can continue to Tackle Climate Change
Posted on March 2022 By Sydney Hinchcliffe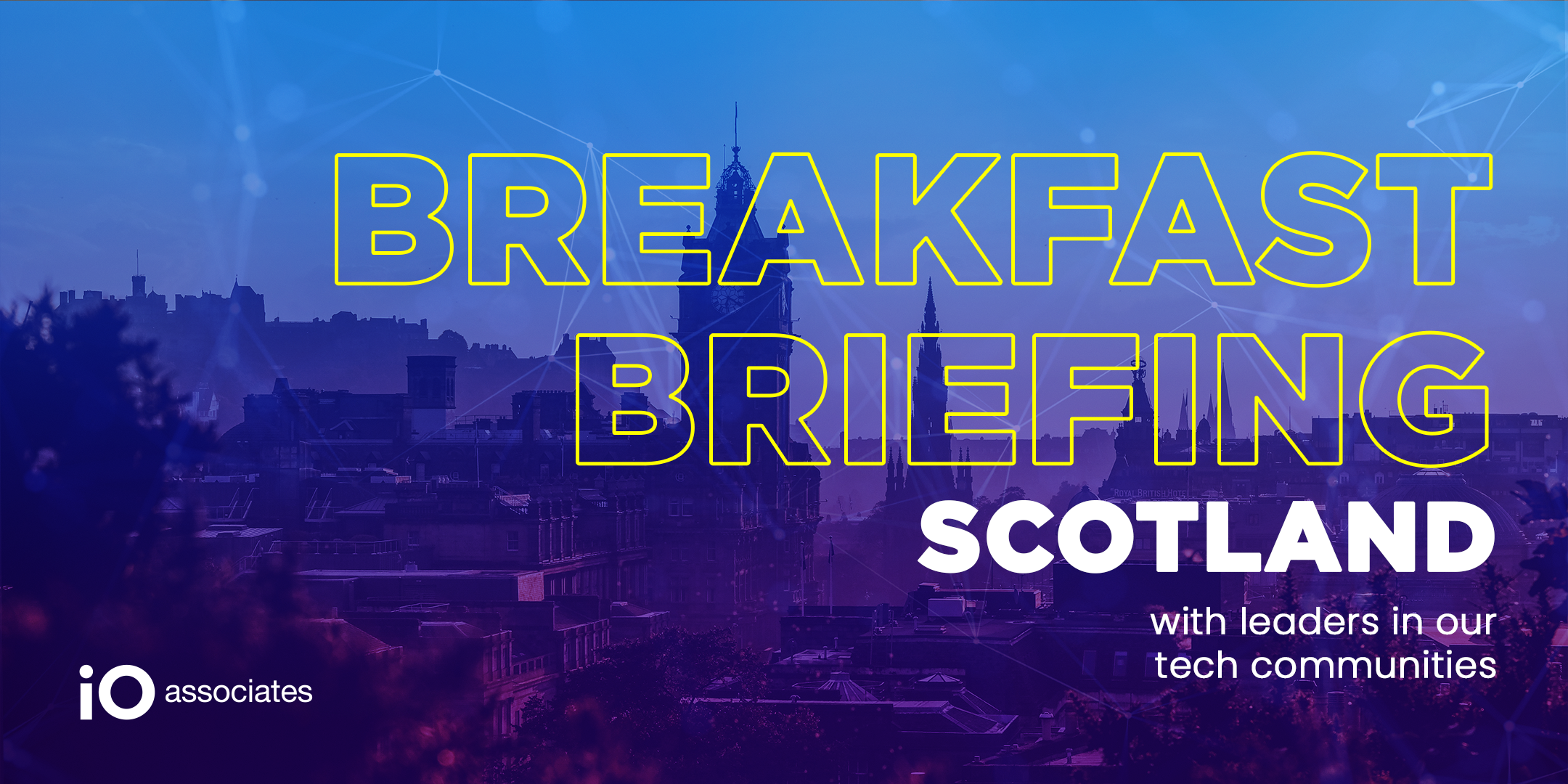 ​
Last week, iO Associates' Lead Consultant Sydney Hinchcliffe hosted the first iO Associates Breakfast Briefing Scotland. We were thrilled to partner with FinTech Scotland for the event.
Joined by CEO Nicola Anderson to discuss the topic "How FinTech is and can continue to Tackle Climate Change". At FinTech Scotland Nicola is leading the development of the fintech cluster with a focus on driving impactful and collaborative initiatives to advance fintech innovation and adoption across the digital economy and building an inclusive and international fintech cluster focused on improved economic, social and environmental outcomes.
The session was led by Nicola as she walked us through the Research & Innovation Roadmap for 2022-2031, which is anchored to developing cluster excellence and working alongside Ron Kalifa and the first anniversary of his Review of UK FinTech. The R&I roadmap is a true demonstration of the industries priorities with contribution from strategic partners of all sizes, regulators, consumer groups and importantly an idea towards the existing and new technologies that will become important.
Out of the longlist of potential priorities, there were four key categories that stood out. These were Open Finance Data, Payments and Transactions, Climate Finance and Financial Regulation.
Open Finance Data
Open finance data will help us build the new digital economy and there were three key areas of focus - Every day and personal banking, the SME market and long-term savings and data. Savings and long-term investment stood out as an area we haven't really focused on yet, and it has become clear that as the pension dashboard and the UK Government progress this type of initiative, it is very clear Open finance data would add strength to building financial resilience and a much earlier stage at life and that we could really start to progress that. Proudly – Origo, who are a FinTech innovator in Scotland are leading the way on the Pension dashboard.
Payments and Transactions
As we think about the development of digital currencies – how we invest and how we pay will change significantly in the future. As Nicola and the team spoke to FinTech innovators across Scotland, there was a real focus on how payments are made in the future and a call across large and small businesses for more discussion groups with the regulators on this topic. The FCA are now recruiting for a Head of Crypto and Digital currency which is very exciting. It is also clear that embedded payments are going to become a very important part of our everyday lives in the future – Modulr are already starting to think about the frictionless journey and Zumo are focused on the digital currency space and calling for more calls with the regulators on the topic.
Climate Finance
It is with no surprise that Climate Finance was one of the priorities for the industry across almost all sectors – Interestingly, the one group who didn't speak about Climate Finance as a priority were the Consumer Groups, as they were more focused on the impact of inclusion. This type of insight and depth of understanding is what will drive behavioural change, significantly changing how financial services works in the future. The main take away from the interviews on this topic is the learning and understanding element of what businesses need to do in order to influence change that will create a Greener Finance economy. It stood out that once again that data, specifically ESG data, will be a priority and driver behind how we can create the best and most immediate impact towards creating a net zero economy.
Financial Regulation
Regulation of the Financial Services industry requires a huge amount of investment. Technologies of the future could release some investment needed to comply with regulations towards innovation improving the industry further. The FCA are very interested in how technology could impact and assist supervision throughout the UK and many other regulators throughout the UK, as well as simplifying compliance and the future of risk modelling. In Scotland we again have fantastic businesses working within this space. AutoRek are leading the way in reconciliations and finance automation software and Aveni are analysing conversational data to provide actionable outcomes and automate processes creating opportunity for greater efficiency.
It is very clear the FinTech cluster in Scotland is very well set up to continue to push Research and Innovation of the industry throughout the UK with the combination of fantastic educational industries and FinTech innovators, we can now expect to see more innovation calls from FinTech Scotland with the first being based around Open Finance Data chapter looking at consumer vulnerability and the enhancements of the SME's in Scotland.
I'd like to finish with a huge thank you to Nicola for taking the time to talk us through the brilliant report and giving us plenty to think about the immediate and long-term future and what we can do to bring the roadmap to life. We will release details about our next Breakfast Briefing shortly.
​If you have any suggestions on future topics for our next event or would be interested in attending, please contact Sydney at s.hinchcliffe@ioassociates.co.uk