Back to blogs
Does Inclusivity Improve Staff Retention?
Posted on July 2022 By iO Associates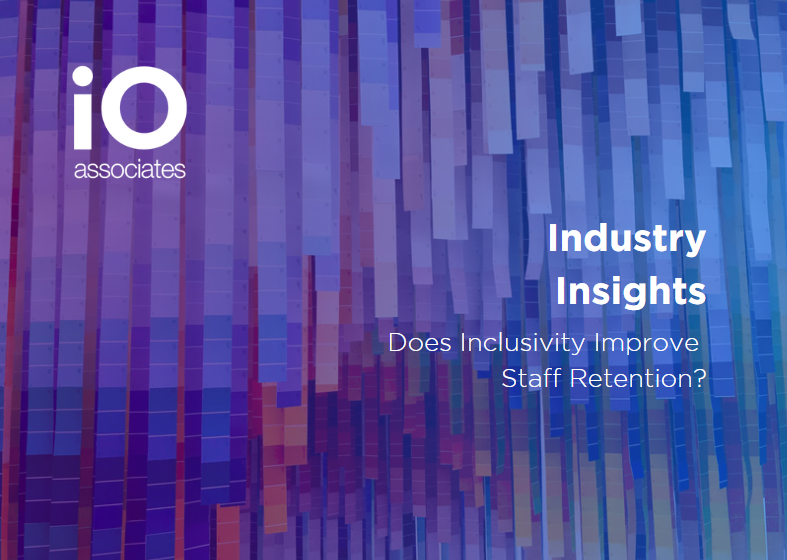 ​
As Pride Month draws to a close, we looked at the importance of inclusivity within the workplace.
We looked at a new survey[i] conducted by LinkedIn and YouGov discovered that '65%' of 2,000 LGBTQ+ workers 'would leave their current job if they felt they could not be honest about their sexual orientation' and a further study by Stonewall[ii] found that 'More than a third of LGBT staff (35%) have hidden that they are LGBT at work for fear of discrimination.' These statistics indicate that LGBTQ+ rights play a crucial role in creating a space of belonging for employees.
At iO Associates, we are always looking to create an inclusive and safe environment. So, we asked you, 'Do you think an inclusive environment is 'make or break' for staff retention?'[iii].
The votes rolled in, and out of just under 30 votes, 79% of people voted Yes and 21% voted No. Conclusively, the result was a resounding Yes! With this in mind, we considered how businesses can improve retention through inclusion.
Further studies by Nathalie Halcrow for Culture Wizard[iv] suggested that cultivating peer support, training supervisors to understand inclusion, and examining whether company policies serve diverse employees are pivotal to improving retention through inclusivity. As a product of this research, we listed our key thoughts:
Nurture peer support. Respect and support created in an inclusive environment will help members of employees contribute to the workplace, and furthermore will allow them to express themselves authentically. It is important to recognise when diversity has not been embraced in certain situations, to educate rather than create conflict.

Consider whether company policies serve diverse employees. The support of peers and supervisors is valuable in day-to-day life, but on a broader scale, organisations should consider whether their policies make an inclusive work environment possible. You might ask : 'Does your organisation have a zero-tolerance policy on harassment?'

Train senior members of staff to understand and model inclusion. Supervisors play a key role in determining how a situation was handled and how it ultimately affects an employee; responsibility for discrimination should not be deferred. The more inclusive approach is to have an open conversation about the needs and expectations of the employee. In this way, inclusion increases people's sense of motivation, engagement, productivity, and innovation.

An inclusive environment correlates strongly to employee retention. Therefore, support of diversity should be of high importance within environments inside and outside the workplace. There is no reason employees should discriminate against diverse colleagues. You don't have to understand someone's sexuality or gender orientation, but it is vital you support and honour their position. As Halcrow comments 'Practiced successfully, inclusion increases people's senses of motivation and engagement. In turn, this increases productivity, and ultimately allows organizations to capitalize on the creativity and innovation that diverse teams bring to the table.'

If you'd like help meeting your diversity goals and objectives, please get in touch with us today.

​

What our employees had to say about the importance of inclusivity in the workplace

​
[i] https://www.bloomberg.com/news/articles/2022-06-09/lgbtq-workers-say-inclusive-environment-key-to-retention-linkedin-study
[ii] https://www.stonewall.org.uk/cy/node/69021
[iii] https://www.linkedin.com/posts/prg-precision-resource-group_poll-pridemonth-inclusivity-activity-6944612904126054400-5pcP?utm_source=linkedin_share&utm_medium=member_desktop_web
[iv] https://www.rw-3.com/blog/how-does-an-inclusive-environment-impact-retention