Back to blogs
Xamarin Development Day Success!
Posted on October 2016 By Michael Collins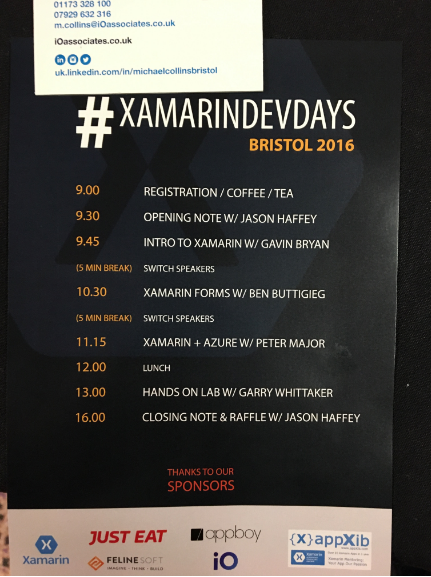 The dust has settled from an excellent day at the Radisson Blu hotel in Bristol on Friday 30th September 2016.

After months of planning, the day had finally arrived for the UK's first official Xamarin Dev Day where our specialist consultants Michael Collins and Tremayne Jennings arrived bright and early with the organisers and speakers to get set up for the day ahead.

The day promised to be "more than just a hackathon" by providing attendees with a hands-on experience, exploring mobile development and rolling up their sleeves to enjoy diving into code.

At 9am people started arriving and helping themselves to the teas, coffees and juices while we, iO Associates, along with the other sponsors Felinesoft, who are a Bristol based web development agency, had a stand set up next to reception giving away some goodies!

After everyone had arrived they moved into the main room to listen to Gavin Bryan who gave a very interesting talk on an 'Intro to Xamarin'. This was followed by Ben Buttigieg who provided a talk on 'Xamarin Forms' and probably came out with the quote of the day, "It's been a while since I've done any live coding, and even longer since I've live coded on 640x480".

Then it was the turn of Peter Major, who gave an extremely interesting talk on 'Xamarin + Azure'. After Peter's talk everyone broke for lunch, which was fantastic, and just what was needed after a busy morning.

The time arrived for the hands on lab with the very talented Garry Whittaker. Everyone split off into small groups with the aim of creating an app on Xamarin. Although there were a few technical difficulties, it is safe to say everyone found it very useful and walked away with a lot more knowledge on Xamarin as a whole.

Then we came to the conclusion of the day which involved a raffle for the Amazon Kindle, and although a few people who shot off early missed out on the opportunity, two happy developers walked away with a prize.

As it was Friday, and everyone was in great spirits, iO Associates provided a free bar to everyone who attended where we talked about what we had learned from the day - it was a great way to finish.

We would like to thank everyone involved for making the day such a success and especially to the Radisson Blu and all of the sponsors involved.

iO Associates are committed to being part of the wider development community. We really care about the areas of technology we work within and strive to build long-term relationships. If you are looking for a new position and want some honest advice please give Michael Collins a call. Alternatively if you are looking to find the next person to join your team get in touch on 0117 332 8100.​